Tickets For The Troops
The ASA Midwest Council proudly supports the USO with our
Tickets For the Troops program.
Our ASA members and the entire STL construction community
are generous enough to donate
Cardinals

tickets for soldiers on leave, so they  can attend a game with their family.  We are looking for tickets to any home games in the month of July and appreciate your generous support of the program.
If you would like to donate tickets, please call Tom McDonnell, George McDonnell & Sons at 314-581-1681
or Susan Winkelmann, ASA Executive Director at 314 845-0855
In the past 10 years we have collected over 2700 tickets valued at more than $192,000.00
Mr. McDonnell,
I am SPC Ives and on 30 Aug 2014, myself and SPC Gilleland attended the Cardinals game.
We really enjoyed ourselves and were very grateful for the tickets that were given to us. Thank you very much.
Very Respectfully,
SPC Ian Ives
My name Is Sgt Ruiz with the Marines from 3/23. SSgt Alvarez and I attended a St. Louis Cardinals game and we like to thank you for the tickets we received.
Thank you for your support!
Respectfully Submitted,
Sgt Ruiz, Xochilt
I&I Staff, 3dBn, 23dMar, 4thMarDiv
Thank you for the tickets my family had a great time and we had never sat so close to the field ever. It was a great experience for our family, so thank you.
I wanted to extend my thanks for the tickets to the Cards game on the 6th of July. Myself and the family really enjoyed and we appreciate the support your organization provides to the service members. Very respectfully submitted, SSgt Alvarez
I am with 3rd Bn 23D Marines stationed here in the St Louis Area. I was told that your organization where responsible for the tickets that myself and many of the Marines, and Sailors in this Area were blessed with the past few weeks. I greatly appreciated it, and was afforded the opportunity to attend three games the 4th, 5th, and 10th. I have attached a few photos of my Wife and I enjoying the games.
I just wanted to say thank you for the four tickets for the Cards game. I attached a photo of me and my family at the game. I did not get to go to a game last year because of being deployed so I missed the whole season. My parents (live in TX) were actually able to go to game with us which was a treat! Go cards and thanks again! CPT Clinton Hooker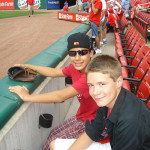 From: Chaplain Peter K. Muschinske, Commander, United States Navy To: Thomas L. McDonnell and Tickets For the Troops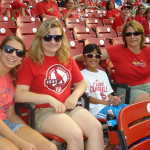 Greetings, all, You see the delight in the faces of young and "older" alike in the attached photos. You have also received already an e-mail from one of the wizened folks (see photo 7111), Chaplain Joe Coffey. Chaplain Coffey and I have served time in a combat zone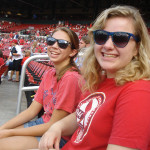 (Afghanistan and Iraq, respectively), but now are working for Navy Recruiting Command, stationed in St Louis. We appreciate your generosity. When we embraced the opportunity for tickets, we had no idea where they would put us in the Cardinals-Reds game of 06 JUL 11. Turned out to be a "once in a life time" opportunity and some of us "traded places" for the front row seats. Thank you for your warm embrace of those of us who serve in this capacity, and our families.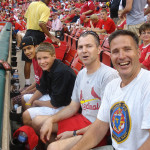 We appreciate all your good work for this community, state, nation and beyond, as we continue to "put our best foot forward" as the people of the United States of America. Continued blessings to–and through–you. Very Respectfully, Peter Chaplain Muschinske
Dear: Thomas L. McDonnell and George McDonnell & Sons, Inc. I would like to thank you for the Cardinals tickets that you gave me and my fellow Marines on July 4, 5, and 6. We really enjoyed them. They were spectacular games where we swept our new arch rival the Reds. On the game night of the July 5 I was sitting next to Yadier Molinas' family. He had purchased 3 rows for his family to come and enjoy the game. I asked his sister if I could play maracas while she played the drums at his next at bat. The entire family laughed at me while I was trying to keep the rhythm of the "family band". I will send a picture of the fun that we had. I also made it on the JUMBOTRON while playing. My friends and I really had a great time, and it is because of companies and people like you that allow us to do so. Thank you again for donating the tickets to us. Sincerely, Sgt Gavin B. Lewis United States Marine Corps Semper Fi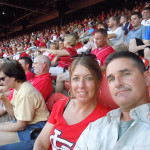 Just a quick note to say THANK-YOU so much for the tickets to the Cardinals game on July 5th. It was great being able to spend time together as a family. We don't get those opportunities very often. We hope your 4th of July weekend was enjoyable and that you all got through it safely. Thanks again for your thoughtfulness and generosity. We truly live in a wonderful country! LtCol Scott "Pita" Payne United States Marine Corps JOSAC Execution Officer
Please pass on my sincere thanks for the Cardinals baseball tickets last night. I have been an active duty Navy Chaplain for the last ten years and have recently arrived in my new duty station in St. Louis. I really enjoyed last night's game. I'm sorry I did not bring the home team better luck but the game was very exciting and the seats were amazing. Please pass on my thanks for the great generosity of your colleagues. Go Cardinals. Go Navy!!! Very Respectfully, Chaplain Joe Coffey Joseph Coffey, LCDR, CHC, USN Chaplain Programs Officer Navy Recruiting Command NOSC St Louis
To Whom it may Concern, I am a United States Marine stationed at 3rd Battalion 24th Marines here in Bridgeton Missouri. I received tickets to take my husband and daughter to the baseball game on July 5th. It was my daughter's first baseball game and she had a blast!!! I want to thank you all for this wonderful opportunity for me and my family! Thank you from the Tannehill's! Sgt Nicole Tannehill
I just wanted to say thanks for the tickets to the Cardinals Game. We enjoyed cheering them on to victory over the Diamondbacks. That was the game where they won in the bottom of the 9th. I'm glad we didn't leave until the end. Those were awesome seats, we had a great view of the game. I sent in some pictures like you asked in the letter with the tickets. Thanks again, we all had a great time.   Kenny Eiting SSgt USMC   I was the lucky recipient of 4 tickets to the St. Louis Cardinals game on 30 June vs. the AZ Diamondbacks. I believe the tickets were donated to the Greater St. Louis area USO by American Subcontractors Association – Midwest Council. I want to let you know, my family and I enjoyed a great game. Thank you for your support of the USO and our military. God bless. Respectfully, CWO Rick Bolden CG PSSU St. Louis
Serving Our Troops Since 1981 The USO of Missouri, Inc. is a civilian, registered 501(c)(3) non-profit organization receiving no government or United Way funding and is not a part of the Department of Defense. The USO relies entirely on the support and generosity of the American people to serve our troops each and every day. Thanks so much for the Cardinal tickets to yesterday's game. My husband and I took our girls 5 and 9 and we had a "Great" time. They both received a build a bear cardinal bear so that started off the exciting day. Our seats were fantastic and blocked just enough by the extreme sun. My husband was able to get a foul ball for my oldest daughter who is a big Cardinal fan.. We had a wonderful time and really appreciate your organizations thoughtfulness. Thanks Again Lauri Skeeters-Smith, MSgt 183FW Air National Guard
I just wanted to say thanks for the tickets to the Cardinals Game. We enjoyed cheering them on to victory over the Diamondbacks. That was the game where they won in the bottom of the 9th. I'm glad we didn't leave until the end. Those were awesome seats, we had a great view of the game. I sent in some pictures like you asked in the letter with the tickets. Thanks again, we all had a great time.   Kenny Eiting SSgt USMC   I was the lucky recipient of 4 tickets to the St. Louis Cardinals game on 30 June vs. the AZ Diamondbacks. I believe the tickets were donated to the Greater St. Louis area USO by American Subcontractors Association – Midwest Council. I want to let you know, my family and I enjoyed a great game. Thank you for your support of the USO and our military. God bless. Respectfully, CWO Rick Bolden CG PSSU St. Louis
Hi my name is Carri. My husband TJ is in the Illinois National Guard and we received free tickets from the USO for the game today. We loved the seats and really enjoyed the game. Thanks for being so kind and donating your tickets for military families like ours to enjoy the game. Attached are some pics. Carri Wadlow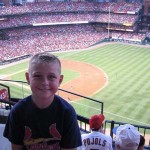 We had a wonderful time at the Cardinals game on July 2. Our family thanks you and the council for providing us with the tickets. The bonus food cash was an unexpected surprise and we loved our treats. Here are a few pictures of our family at the game. Thank you again for recognizing the service of my husband. The recognition is very much appreciated by us all. Have a wonderful week! Cindy Wood
My family and I wanted to thank the American Subcontractors Association-Midwest Council for your generous gift of Cardinal tickets. We went to the July 3rd game and it was a wonderful day to honor not only my husband who has been a pilot for the Air Force for 10 years, but to all the men and women who serve our country. My husband and I grew up in St. Louis and after 10 years we are back "home" at Scott AFB and we enjoy going to Cardinal games any chance we get and bestowing our love of baseball to our two children Jacob and Katelyn. We may have lost that day, but my son got to see Albert Pujols get a home run during the game and the excitement on his face was priceless. I've sent a photo of us at the game. Thanks again!!!!! Tom, Kim, Jacob and Katelyn Knaust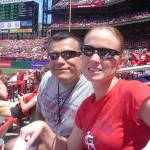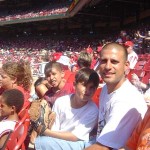 I meant to send these after the game… OOPS. All are active duty Coast Guard. Thank you again. V/R M. L. CARPENTER YN1, U.S. Coast Guard