October 2016 Membership DINNER Meeting
Join the ASA & Holland Construction for Networking &  Dinner
at the ASA October 19th Monthly Membership Meeting.
Holland Construction will host ASA members on October 19th
@  The Quail Club in Bellville, IL, for a Subcontractor Appreciation Dinner.
Oct 19th Meeting Flyer-click here to download 
Please join the ASA Midwest Council and Holland Construction Services
for our October 19th Monthly Meeting.

FREE OF CHARGE FOR ASA MEMBERS BUT YOU MUST RSVP TO:
Lindsey Muskopf: lmuskopf@hollandcs.com by October 12th 

The Quail Club
5:00 to 9:00 p.m.
8303 Concordia Church Road
Belleville, IL  62223
Meeting Schedule:
5:00 to 6:00 p.m.  Networking with Holland Personnel
6:00 to 7:00 p.m. Dinner
7:00 to 9:00 p.m. Networking with Holland Personnel

Spend the evening with over 30 Holland Construction employees including Bruce Holland, CEO;                Mike Marchal, President; Scott Schanuel, Sr. Director of Business Development;
Ron Glaser, VP of Pre-Construction; Jim Riess, VP of Estimating; and
Chris Funston, Sr. Project Manager for networking and dinner
from 5:00 to 9:00 p.m. Dinner served at 6:00 p.m.
Our meeting is sponsored by Holland Construction, so NO CHARGE to attend, but you
must RSVP to Lindsey Muskopf: lmuskopf@hollandcs.com by October 12th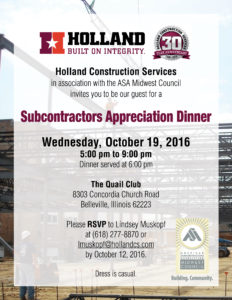 Address:
8303 Concordia Road
,
Belleville
,
Illinois
,
62223
,
United States
October 19, 2016




5:00 pm - 9:00 pm