ASA ANNOUNCES 2020 GALA NOMINEES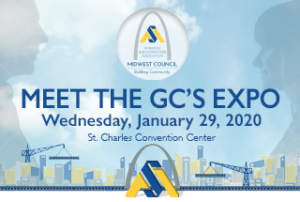 KICK OFF 2020 WITH THE ASA MIDWEST COUNCIL
The 18th annual Meet the GC's Expo is set for Wednesday, January 29th at the St. Charles Convention Center
NEW LOWER LEVEL SPACE IN 2020-More convenient to parking, and additional room for networking!
ASA MEMBERS ONLY ACCESS-3:00 to 4:30 p.m.
ALL REGISTERED ATTENDEES WELCOME-4:30 to 7:00 p.m.
The ASA Expo is a must attend event each year, and the perfect way to kick off the new year
with the STL Premier GC's! Interact with multiple representatives from each General Contractor.
ASA'S 32nd Annual Golf Tournament-October 7, 2019
The ASA Midwest Council's 32nd  Annual Golf Tournament was a great day for everyone! 200 golfers enjoyed the beautiful fall day!
Members of the construction community gathered at Whitmoor Country Club on Monday, October 7th , and enjoyed 18 holes of golf, networking, and the usual ASA fun!  While enjoying the day, we raised funds for ASA's own Tom Owens Memorial Scholarship, which provides funds to young adults, to continue their education beyond high school.
Thank you to all of our sponsors and golfers for supporting ASA's efforts!
Winning Foursomes:

Championship Flight-18 Under Par
Kenny Byrne
Jeremy Lammers
Chad Hansen
Chris Peters
A Flight-10 Under Par
Chris Hale
Joel Anderson
Mark Hartman
Matt LeBannon

B Flight-5 Under Par
John Hoette
Kent Pitman
Vince Winkelmann
Scott Kirn

SAVE THE DATE FOR 2020-MONDAY, OCTOBER 5, 2020 
2019-20 Officers & Board of Directors
(Pictured left to right-Mark O'Donnell, Treasurer; Rich Russell, Vice President; Tom Henson, President; Chris Sauer, Secretary)
The American Subcontractors Association (ASA)-Midwest Council recently elected its officers and board of directors for 2019-20.
Mr. Tom Henson, vice president at Affton Fabricating & Welding Co., Inc. was elected as the  2019-20-chapter president.  Henson succeeds Ms. Jennifer Church, United Rentals, and he will serve a one-year term which began July 1 and will expire June 30, 2020.
"It has been my privilege to be part of this subcontracting community for 20+ years and I couldn't be more excited about the upcoming year" Henson said. "It is an absolute honor to be elected as the ASA Midwest Council President.  The changes in this organization and subcontracting industry over those 20+ years are nothing short of amazing, and I look forward to be a part of the changes yet to come."
Richard Russell, of Sachs Electric Company was elected vice-president. Chris Sauer, of TJ Wies Contracting will serve as secretary, and Mark O'Donnell of Schmersahl Treloar & Co. will serve as the association's treasurer.
Members of the 2019-20 Board of Directors also include: Steve Albart, Enterprise Bank & Trust; Sal Vitale, Vee-Jay Cement Contracting; Dennis Voss, Golterman & Sabo; Steve Cummins, Bell Electrical Contractors; Dan Tucker, Pipe and Duct Systems; and Ryan Spell, Precision Analysis.
---
Oct 7th Golf Tournament Registration is Available
REGISTRATION IS OPEN FOR THE 32ND ANNUAL
ASA MIDWEST COUNCIL GOLF TOURNAMENT!
MONDAY, OCTOBER 7, 2019
WHITMOOR COUNTRY CLUB
EVENT SCHEDULE:
Registration & Lunch Buffet 10:00 a.m.
Shot Gun Start 11:30 a.m.
Cocktail Hour 4:30 p.m.
Shoot Out 4:30 p.m.
Auction & Dinner 5:30 p.m.
CLICK HERE FOR INFORMATION & REGISTRATION 
---
Message from Jennifer Church, ASA MWC President
This marks the last Friday of my Presidency, which makes me a little sad, but what an honor and a fantastic opportunity this past year has been for me!
It has truly been a pleasure to serve as the President of the ASA Midwest Council, I hope I served you well. What a fantastic organization to be a part of.
Thank you to our members for your support and commitment. I think we have made some progress this year and will continue to push forward in things that matter to our members.
Thank you to the past presidents, the board of directors, and the committee chairs and co-chairs, you all did an amazing job, and I thank you for all your time and effort. Each of you have my sincere gratitude and appreciation. Special thank you to Susan for making it look like I knew what I was doing.  Great job as usual!
You all are in good hands with your new executive officers ; Tom Henson, Rich Russell, Chris Sauer, and Mark O'Donnell. Good luck in the year ahead.
Thank you again,
Jennifer Church
United Rentals
ASA Midwest Council President
[email protected]
Save the Date for the 32nd Annual ASA Midwest Council Golf Tournament
Monday, October 7th 2019
Whitmoor Country Club
Additional Details Coming Soon!
ASA SHOWCASE & BBQ MAY 15
Queeny Park will be the place to be on May 15th 2019, if you are part of the STL Construction Industry!
JOIN US and multiple vendors, suppliers, GC's and Subcontractors, for a one stop shop of the latest and greatest, new and innovative construction equipment, supplies, safety equipment and much more!  This is an event you do not want to miss! FREE FOOD|FREE DRINKS|BBQ COMPETITION|
ASA Construction Showcase & BBQ
Queeny Park
May 15, 2019| 2-7 pm
Exhibitor list below,  is not final, as we are still accepting exhibitor reservations until May 1st.
Interested in Exhibiting?  Download exhibitor registration and submit by May 1st to [email protected]
2019 St Louis Construction Showcase BBQ Registration Final
Access Tile
Adhesives Technology Corp
Alberici Constructors
Aspen Waste Systems
Bangert, Inc.
Bazan Painting Co.
Beaver Valley Supply
Bi-State Utilities Co.
Brydie Flooring
Clemons Concrete Coatings
Construction Products Sales
Contegra Construction Co.
Dewalt
Drilling Service Co.
ELCO Chevrolet Cadillac
Equipment Share
Fabick
Galloway Law Firm
J D Kutter
K&K Supply
Knapheide Truck Equipment
Makita USA
Milwaukee Tool
Nox-Crete
NuWay
OnSite Companies
Paric Corporation
Pat Kelly Equipment Company
Pipe & Duct Systems
Prime Source Building Products/Grip-Rite
Quikrete
Robert Bosch Tool Corp.
Seiler Instrument
SFW Partners
The Sherwin-Williams Company
Sika Scofield
Smash-It
STIHL
Sunbelt Rentals
United Rentals
Congratulations 2019 Gala Award Winners!
The American Subcontractors Association (ASA) Midwest Council announced the winners of its Mad Hatter Awards Gala, April 6th. ASA Midwest Council hosted 422 people, at the Four Seasons Hotel
in Downtown St. Louis, for the 26th annual event.
The award categories included General Contractor of the Year, Outstanding MEP Subcontractors, Outstanding Specialty Subcontractors, and Service Provider/Supplier of the Year. The ASA Legacy Award, and GC Field & Office Employees of the Year, were also recognized at the gala. The ASA Midwest Council awarded special safety awards to qualifying ASA members who have achieved work safety excellence in 2018.
CLICK HERE TO ACCESS EVENT PHOTOS
GALLERY PASSWORD IS asa (all lowercase)
DOWNLOAD PASSWORD IS winkelmann (all lowercase)
2019 GC of the Year Award Winners
Category A BSI Constructors
Category B Kozeny-Wagner
Category C BEX Construction Services
2019 Outstanding MEP Subcontractor
Category A Guarantee Electrical
Category B Kaemmerlen Electric
2019 Outstanding Specialty Subcontractor
Category A Flooring Systems, Inc.
Category B AME Constructors
2019 Service Provider/Supplier of the Year
J D Kutter
ASA Legacy Award: Joe Hoette, Hoette Concrete Construction
GC Field Employee of the Year: Terry Meyer, BSI Constructors, Inc.
GC Office Employee of the Year: Alex Sherfy, Musick Construction
2018 ASA Safety Cup Winner: 
George McDonnell & Sons

2018 Safety Award Winners
Division I – Murphy Company
Division II – Vee-Jay Cement Co.
Division III – Bell Electrical Contractors
Division IV – Hayden Wrecking Corp.
Division V – Drilling Service Co.
Division VI – Pipe and Duct Systems, LLC
"I would like to congratulate this year's award winners and thank everyone for their continued support for the ASA-Midwest Council and the St. Louis area subcontractors," said ASA-Midwest Council President Jennifer Church , with United Rentals. " Our nominees and winners are an extraordinary example of what is possible when a project team works together towards their common goal." "Our awards Gala is all about celebrating excellence in the St. Louis construction industry, and I am truly honored to be serving as president of the ASA Midwest Council this year."
SAVE THE DATE FOR NEXT YEAR'S AWARDS GALA
MARCH 28, 2020 AT THE FOUR SEASONS STL.
ASA ANNOUNCES 2019 GALA NOMINEES