SBA and PPP Loan Forgiveness Program
On May 15, 2020, the Small Business Administration (SBA) released their application that businesses will submit to their lender to apply to have their Paycheck Protection Program (PPP) loans forgiven. The application, which is accompanied by a number of worksheets and instructional pages, provides clarity on a number of critical questions that were facing PPP loan recipients.
There are still some open questions and we anticipate that, in addition to the application document, the SBA will be releasing interim rules relating to the loan forgiveness provisions.  In the meantime, businesses that received a PPP loan, are well advised to review the application and accompanying guidance as soon as possible, rather than waiting until the end of their loan period, in order to identify and take any necessary steps to ensure and maximize loan forgiveness.   The biggest new takeaways from the application are:  the covered loan period, calculation of forgivable expenses, and reductions to forgiveness.
Please view the Small Business Legislative Council's memo on these provisions.
---
SHOW ME STRONG RECOVERY PLAN
Missouri's initial recovery phase began May 4, 2020, and during this phase we can gradually start to reopen economic and social activity. This will be a deliberate process, and is flexible to adapt to the situation. Some communities may be able to reopen at a faster rate, while others may need to continue restrictions to keep the virus from spreading. During this time, we should limit our activity and interactions and continue to maintain social distancing and practice good hygiene to protect our neighbors and ourselves.
Show Me Strong Recovery Order, through May 31, 2020 
MO GOV STEP BY STEP GUIDE AND FAQ-CLICK HERE
---
ASA Coronavirus COVID-19 RESOURCES
ASA Resources to help you protect your companies, employees & families during the COVID-19 Outbreak:
---
FREE WEBINAR FOR ASA MIDWEST COUNCIL MEMBERS!
Reset 2020| Techniques and Solutions to Maneuver through Economic Constriction
How to Right Size Your Construction Company to Market Conditions
"What If" Scenario – Forecasting & Planning
Risk Transfer Amidst Force Majeure
Questions & Answers
Thursday, May 7, 2020
Noon to 1:30 p.m. Central Time
FREE-ASA MEMBERS
$60 NON-MEMBERS
Interactive Online Education Webinar
CLICK HERE TO REGISTER AND JOIN THE WEBINAR 
---
ASA SUMMARY MO STATEWIDE STAY AT HOME ORDER EFFECTIVE 4.6.20 (key points of interest to subcontractors)
MISSOURI_s stay at home order-CLICK HERE TO DOWNLOAD

MO STATEWIDE STAY AT HOME ORDER EFFECTIVE 4.6.20.
https://governor.mo.gov/stay-home-missouri-order-guidance-and-frequently-asked-questions

---
ASA SUMMARY SBA CARES LOAN PROGRAMS
ASA SBA CARES Loan Programs-CLICK HERE TO DOWNLOAD

ASA SUMMARY OF CARES ACT-Coronavirus Aid, Relief, and Economic Security Act
ASA CARES Act Summary-CLICK HERE TO DOWNLOAD 
On March 25, 2020, the Senate passed the $2.2 trillion Coronavirus Aid, Relief, and Economic Security (CARES) Act unanimously (96-0). The House passed the CARES Act on Friday, March 27, 2020 by a vote of 419-6 and the legislation was immediately signed into law by President Trump. The CARES Act is the third economic stimulus package passed by Congress in response to the outbreak of coronavirus (COVID-19) and its size and scope makes it the largest stimulus package in U.S. History. Highlights of the CARES Act include:
$500 billion for loans and assistance to companies and state and local governments, including $29 billion for loans to U.S. airlines and related businesses.
$349 billion in low-interest small business loans that could be partially forgiven
Payments of as much as $1,200 for individual taxpayers, and $500 per child, phased out when incomes exceed $75,000 for individuals and $150,000 for couples filing jointly.
An additional $600 per week for those receiving unemployment benefits.
The CARES ACT-Coronavirus Aid, Relief, and Economic Security Act
https://files.taxfoundation.org/20200325223111/FINAL-FINAL-CARES-ACT.pdf
---
CISC COVID-19 EXPOSURE, PREVENTION, PREPAREDNESS, RESPONSE PLAN
CISC COVID-19 Exposure Prevention Preparedness and Response Plan_

Department of Labor SUMMARY of the Families First Coronavirus Response Act
https://www.dol.gov/agencies/whd/pandemic/ffcra-employee-paid-leave
COVID-19 Healthcare Planning Checklist
COVID-19 Healthcare Planning Checklist

CDC GUIDANCE FOR BUSINESS PREPAREDNESS
https://www.cdc.gov/coronavirus/2019-ncov/community/guidance-business-response.html
---
CLICK LINK FOR SLIDES FROM 3.19.20. ASA WEBINAR Practical Considerations for Dealing with COVID-19
https://americansubcontractorsassociationnationalasa.growthzoneapp.com/ap/CloudFile/Download/GrZKEOYp 
---
The Center for Disease Control (CDC) is responding to an outbreak of respiratory disease caused by a novel coronavirus (COVID-19) that was first detected in China and has now emerged in almost 90 locations internationally, including 500 confirmed cases within the United States as of March 9, 2020. With the complete clinical picture of COVID-19 not fully known along with the CDC's expectation that the number of confirmed cases will continue to rise, members of the American Subcontractors Association (ASA) may have concerns regarding the disease and how to handle employment matters during this outbreak. As the situation is emerging and continually evolving, ASA will monitor all federal agency developments and guidance to supply our members with the most up to date information available.
The ASA has collected numerous materials from a wide variety of sources and developed this Coronavirus Resource Guide to provide our members with a comprehensive resource to best prepare for employment disruptions as COVID-19 cases continue to be discovered.  CLICK BELOW TO DOWNLOAD IMPORTANT INFORMATION!
ASA_COVID_19_Resource_Guide-CLICK HERE TO DOWNLOAD 
---
ASA ANNOUNCES 2020 GALA NOMINEES
EVENT CANCELLED DUE TO COVID-19 OUTBREAK, IN OUR CONCERN FOR THE HEALTH AND SAFETY OF OUR COMMUNITY!
---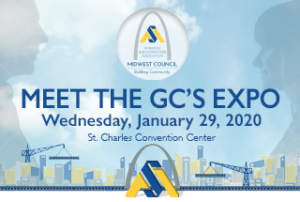 KICK OFF 2020 WITH THE ASA MIDWEST COUNCIL
The 18th annual Meet the GC's Expo is set for Wednesday, January 29th at the St. Charles Convention Center
NEW LOWER LEVEL SPACE IN 2020-More convenient to parking, and additional room for networking!
ASA MEMBERS ONLY ACCESS-3:00 to 4:30 p.m.
ALL REGISTERED ATTENDEES WELCOME-4:30 to 7:00 p.m.
The ASA Expo is a must attend event each year, and the perfect way to kick off the new year
with the STL Premier GC's! Interact with multiple representatives from each General Contractor.
ASA'S 32nd Annual Golf Tournament-October 7, 2019
The ASA Midwest Council's 32nd  Annual Golf Tournament was a great day for everyone! 200 golfers enjoyed the beautiful fall day!
Members of the construction community gathered at Whitmoor Country Club on Monday, October 7th , and enjoyed 18 holes of golf, networking, and the usual ASA fun!  While enjoying the day, we raised funds for ASA's own Tom Owens Memorial Scholarship, which provides funds to young adults, to continue their education beyond high school.
Thank you to all of our sponsors and golfers for supporting ASA's efforts!
Winning Foursomes:

Championship Flight-18 Under Par
Kenny Byrne
Jeremy Lammers
Chad Hansen
Chris Peters
A Flight-10 Under Par
Chris Hale
Joel Anderson
Mark Hartman
Matt LeBannon

B Flight-5 Under Par
John Hoette
Kent Pitman
Vince Winkelmann
Scott Kirn

SAVE THE DATE FOR 2020-MONDAY, OCTOBER 5, 2020 
2019-20 Officers & Board of Directors
(Pictured left to right-Mark O'Donnell, Treasurer; Rich Russell, Vice President; Tom Henson, President; Chris Sauer, Secretary)
The American Subcontractors Association (ASA)-Midwest Council recently elected its officers and board of directors for 2019-20.
Mr. Tom Henson, vice president at Affton Fabricating & Welding Co., Inc. was elected as the  2019-20-chapter president.  Henson succeeds Ms. Jennifer Church, United Rentals, and he will serve a one-year term which began July 1 and will expire June 30, 2020.
"It has been my privilege to be part of this subcontracting community for 20+ years and I couldn't be more excited about the upcoming year" Henson said. "It is an absolute honor to be elected as the ASA Midwest Council President.  The changes in this organization and subcontracting industry over those 20+ years are nothing short of amazing, and I look forward to be a part of the changes yet to come."
Richard Russell, of Sachs Electric Company was elected vice-president. Chris Sauer, of TJ Wies Contracting will serve as secretary, and Mark O'Donnell of Schmersahl Treloar & Co. will serve as the association's treasurer.
Members of the 2019-20 Board of Directors also include: Steve Albart, Enterprise Bank & Trust; Sal Vitale, Vee-Jay Cement Contracting; Dennis Voss, Golterman & Sabo; Steve Cummins, Bell Electrical Contractors; Dan Tucker, Pipe and Duct Systems; and Ryan Spell, Precision Analysis.
---
Oct 7th Golf Tournament Registration is Available
REGISTRATION IS OPEN FOR THE 32ND ANNUAL
ASA MIDWEST COUNCIL GOLF TOURNAMENT!
MONDAY, OCTOBER 7, 2019
WHITMOOR COUNTRY CLUB
EVENT SCHEDULE:
Registration & Lunch Buffet 10:00 a.m.
Shot Gun Start 11:30 a.m.
Cocktail Hour 4:30 p.m.
Shoot Out 4:30 p.m.
Auction & Dinner 5:30 p.m.
CLICK HERE FOR INFORMATION & REGISTRATION 
---
Message from Jennifer Church, ASA MWC President
This marks the last Friday of my Presidency, which makes me a little sad, but what an honor and a fantastic opportunity this past year has been for me!
It has truly been a pleasure to serve as the President of the ASA Midwest Council, I hope I served you well. What a fantastic organization to be a part of.
Thank you to our members for your support and commitment. I think we have made some progress this year and will continue to push forward in things that matter to our members.
Thank you to the past presidents, the board of directors, and the committee chairs and co-chairs, you all did an amazing job, and I thank you for all your time and effort. Each of you have my sincere gratitude and appreciation. Special thank you to Susan for making it look like I knew what I was doing.  Great job as usual!
You all are in good hands with your new executive officers ; Tom Henson, Rich Russell, Chris Sauer, and Mark O'Donnell. Good luck in the year ahead.
Thank you again,
Jennifer Church
United Rentals
ASA Midwest Council President
[email protected]