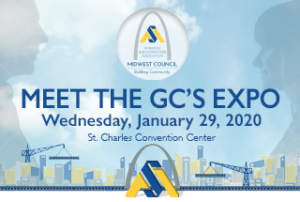 KICK OFF 2020 WITH THE ASA MIDWEST COUNCIL
The 18th annual Meet the GC's Expo is set for Wednesday, January 29th at the St. Charles Convention Center
NEW LOWER LEVEL SPACE IN 2020-More convenient to parking, and additional room for networking!
ASA MEMBERS ONLY ACCESS-3:00 to 4:30 p.m.
ALL REGISTERED ATTENDEES WELCOME-4:30 to 7:00 p.m.
The ASA Expo is a must attend event each year, and the perfect way to kick off the new year
with the STL Premier GC's! Interact with multiple representatives from each General Contractor.