CONGRATULATIONS TO OUR 2021 NOMINEES | FRIDAY NIGHT LIGHTS AWARDS GALA | FRIDAY, JUNE 25, 2021
The ASA Midwest Council will shine a light on our industry & recognize outstanding performances during the challenging year of 2020!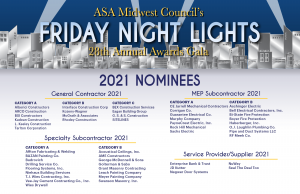 ---
SAVE THE DATE FOR THESE  2021 ASA MIDWEST COUNCIL EVENTS | MORE INFORMATION COMING SOON
WEDNESDAY, MAY 19, 2021 | MEET THE GC'S EXPO
FRIDAY, JUNE 25, 2021 | 28th ANNUAL AWARDS GALA
MONDAY, OCTOBER 4, 2021 | 34th ANNUAL GOLF TOURNAMENT
---
ASA MIDWEST COUNCIL'S  33RD ANNUAL GOLF TOURNAMENT RESULTS:

The ASA Midwest Council hosted it's 33rd annual golf tournament on Monday, October 5th at Whitmoor Country Club.  200 golfers, and many sponsors and volunteers enjoyed a perfect fall day of golf, networking, and general fun!  Congratulations to the 3 flight winers, as well as our various contest winners listed below!
A big thank you to all of our sponsors & volunteers that made the day possible|SAVE THE DATE FOR 2021 | Monday, October 4, 2021 @ Whitmoor Country Club
Championship Flight | Representing Marketeer, Inc.   | 16 under par south course-56
AJ Ford
John Gerst
Nathan Maurer
Ryan Jennings

A Flight | Representing Bazan Painting Co. | 8 under par north- 63(scorecard playoff)
Walter Bazan, Jr.
Rick Bazan
Val Perales
Perry Hartwick
B Flight | Representing Sherwin Williams Paint Co. | 4 under par north-67 (scorecard playoff)
Jeff Steiner
Kris Klaustermeier
Jake O'Neill
Chris Loness
Putting Contest Winner | Auto Trim Restyling
Longest Drive Men's | Nathan Maurer and Paul Murdick
Longest Drive Women's | Jenny Grant and Angie Wheeler
Closest to the Pin | AJ Ford and Josh Del Pinos
Shoot Out Winners | One shoot 135 yards |Closest to the pin
1st Place-Rick Bazan
2nd Place-Tim Smith
3rd Place-Dan Kastrup
EVENT SPONSORS:

TOURNAMENT SPONSOR-Pirtek Overland
PUTTING CONTEST-Paric Corporation
MEETING OF THE COURSES-T J Wies Contracting, Inc.

BEVERAGE CARTS- 24/7 Onsite Cameras, Affton Fabricating & Welding,  BAZAN Painting Co.,
Enterprise Bank & Trust, NuWay, 
SHOOT OUT-Metzger McGuire
LUNCH SPONSORS– Fabick, Gershman Mortgage, G&S Architectural (Golterman & Sabo) Kadean Construction, Southern Illinois Builders Assn./SICAP

COCKTAIL SPONSORS- American Steel Fabrication, Inc., George McDonnell & Sons Caulking Contractor,
Irwin Products, Jarrell Mechanical Contractors, Parkway Construction Services
DINNER SPONSORS-BSI Constructors, BEX Construction Services, McGrath & Associates
EXCLUSIVE HOLE SPONSORS-  Aspen Waste Systems, Auto Trim Restyling,  CSA Advisors LLC,
Common Sense Solutions, Drilling Service Co.,Fabick, FIooring Industry Council, Meyer Painting Co.,
Mold Solutions, Pirtek Overland, SFW Partners LLC, Woodard Cleaning and Restoration, 
HOLE SPONSORS-  G&S Architectural (Golterman & Sabo), Grant Contracting,  Heitkamp Masonry,
Kozeny-Wagner, Rhodey Construction, Sachs Electric Co., St. Louis CNR, Sherwin-Williams Paint Co.,
Swanson Masonry, Inc.,

VOLUNTEER SHIRT SPONSOR–George McDonnell & Sons Caulking Contractor
##########################################################################################################################
---
ASA Midwest Council Hosts Virtual Celebration
to Honor Disco Ball Award Nominees & Winners
(St. Louis, MO, July 29, 2020) – The American Subcontractors Association (ASA) Midwest Council announced the winners of its Disco Ball Awards Gala, during a virtual awards ceremony on July 29th. The annual awards gala that was set to take place on March 28th, was cancelled due to the COVID-19 pandemic crisis.  The award categories included General Contractor of the Year, Outstanding MEP Subcontractors, Outstanding Specialty Subcontractors, and Service Provider/Supplier of the Year.  The GC Field & Office Employees of the Year were also recognized at the gala. The ASA Midwest Council awarded special safety awards to qualifying ASA members who have achieved work safety excellence in 2019.
2020 General Contractor of the Year
Category A
BSI Constructors, Inc.
Category B
McGrath & Associates
Category C
BEX Construction Services
2020 Outstanding MEP Subcontractor
Category A
PayneCrest Electric

Category B
Boyer Fire Protection
2020 Outstanding Specialty Subcontractor
Category A
Vee-Jay Cement Contracting
Category B
Golterman & Sabo
2020 Service Provider/Supplier of the Year
J D Kutter
GC Field Employee of the Year
Jeff Bueckendorf, BEX Construction Services
GC Office Employee of the Year
Steve Cronin, Tarlton Corporation
2019 ASA Safety Cup
Murphy Company
2019 Safety Award Winners
Division I – Murphy Company
Division II – Vee-Jay Cement Co.
Division III – Professional Installers, Inc.
Division IV –BAZAN Painting Co.
Division V – Parkway Construction Services
Division VI – George McDonnell & Sons
"Being delayed several months, and not having the pleasure of the big dinner gathering, this years' awards ceremony was anything but conventional.  However, the significance of these awards is not reduced, and I am pleased that we were able to continue our tradition of recognizing excellence in the St. Louis area construction industry. " said ASA-Midwest Council President Richard Russell with Sachs Electric Co. "I would like to congratulate this year's award winners and nominees for a job well done."
General contractors were nominated based on bid ethics practice, equitable contract/purchase order provisions, safety policy and practices, payment practices, jobsite supervision, scheduling coordination, subcontractor/vendor relations and administrative procedures/paperwork. Sub-contractors were judged on bid ethics and practice, safety policy and practices, jobsite supervision, communication, scheduling coordination, project relations, administrative procedures/paperwork and quality workmanship. The vendor/suppliers were nominated based on pricing consistency, equitable contract/purchase order provisions, accessibility, timeliness of service/delivery, customer relations and administrative procedures.
The general contractor and subcontractor categories were divided into sub-categories based on sales volume. ASA members nominated and cast votes for the general contractor and service provider/ supplier awards. Past nominees and previous general contractor award winners submitted nominations for the subcontractor categories, which were voted on by previous general contractor winners.