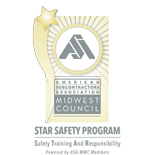 ASA Midwest Council is proud to support its members with its own STAR Safety Program. STAR stands for Safety Training And Responsibility.  This important safety program offers our members the following benefits:
Annual jobsite inspection and consultation with STAR Program Administrators. "No fines, just assistance".
Free quarterly Safety Training sessions for continuing education.
Safety Program mentoring on specific safety related issues.
Industry recognition through ASA's excellent reputation in the St. Louis construction marketplace.
Improved employee productivity and morale through a comprehensive safety program.
Lower EMR rates and insurance premiums through a demonstrated successful safety program.
Special Annual recognition at the ASA Gala awards night.
To apply, Click Here.