ASA Midwest Council elects 21-22 Board of Directors | Officers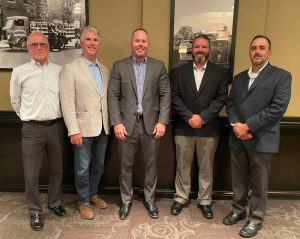 Pictured left to right | Mark O'Donnell, Richard Russell, Chris Sauer, Dan Tucker, Dennis Voss
(St. Louis, MO, August 2021) – The American Subcontractors Association (ASA)-Midwest Council recently elected its officers and board of directors for the 2021-22 fiscal year.
Mr. Chris Sauer, T J Wies Contracting,  was elected as the 2021-22-chapter president.  Sauer succeeds Mr. Richard Russell, Sachs Electric Co., and will serve a one-year term as president, which began July 1 and will expire June 30, 2022
"I am honored to step into the role of president of ASA Midwest Council," said Chris Sauer. "I'm excited to see the industry and all our members move forward from the past year." "Our committees and staff are working hard to provide our members with all the events and programs that are expected from ASA."  "I look forward to the year ahead and catching up with  as many ASA members & industry colleagues as possible during my tenure as ASA president."
Dan Tucker, MC Mechanical, was elected vice-president. Dennis Voss, Golterman & Sabo,  will serve as secretary, and Mark O'Donnell of Schmersahl Treloar & Co. will serve as the association's treasurer. Mr. Richard Russell, Sachs Electric Co. will serve one additional year as the immediate past president.
Members of the 2021-22 Board of Directors also include: Steve Cummins, Bell Electrical Contractors; Ryan Spell, Precision Analysis; Rose Kastrup, CSA Advisors LLC; Bill Grant, Grant Contracting; Scott Meyer, Meyer Painting Co.: and Mark Murphy, Drilling Service Co.
About American Subcontractors Association – Midwest Council
The American Subcontractors Association (ASA) Midwest Council is a construction trade association made up of quality specialty subcontractors, suppliers & service providers,  serving the construction industry and the community in the greater St. Louis metropolitan area and southern Illinois. The ASA Midwest Council's purpose is to improve the construction process through active participation in education, advocacy, and collaboration. For additional information about the ASA Midwest Council, visit www.asamidwest.com or contact executive director
Susan Winkelmann at 314-845-0855. ASA Midwest Council | Building. Community. for 54 years | Est. 1967
---